It's nearly mid-October and you know what that means… time to get Halloween-ready! Get excited NOW as we have a few perfect DIY projects for you to get your Halloween creeps at home at low cost!
Here are 5 DIY Project Ideas For Halloween.
Shining Monster Eyes

What You Need:
–  At least 1 carton of toilet paper rolls' cardboards
–  Phosphorescent sticks
Steps:
Just cut out shapes of eyes in the rolls and then insert the phosphorescent stick inside.
Place them in your garden, or in the corner of a darkroom to freak your guests out by making them feel like they are observed by dozens of horrific monsters!
Source: Listotic
Horrifying Bloody Candles


What You Need:
– Large white candles
– 1 long red candle
Steps:
Light up the red candle and pour its wax on the edges of the other white candles until it dribbles for a realistic blood-like effect. This will instantly make your house look a bit more like a dark haunted manor straight out of an old-school horror movie!
Source: Madame Dentelle
Revenge of The Brides' Floating Heads

What You Need:
– Polystyrene heads (you can find these in party or decoration stores or use styrofoam display heads)
– 1 white muslin fabric
– A hook for each head
Steps:
Cut large squares in the fabric and put them over the heads like brides' veils, then fix the hook and top and they are ready to be hung!
They would look perfect in your garden to welcome little monsters.
Source: simplydesigning
Mini Gloomy Lanterns

What You Need:
– Colorful plastic cups
– A black permanent marker
– LED candles
Steps:
Place the cups upside down and draw scary faces on them such as skulls, ghosts or clowns with the marker, then place the fake candles inside the cups!
Source: deco.fr
Puking Jacks (or Pumpkins)
What You Need:
– Any kind of dips for chips (eg. queso, cheese)
– A pumpkin for 'each dip'
– Carving knife or any other carving tool
Steps:
This is basically your regular grimacing pumpkin, but you have to make sure to carve the mouth open to the bottom so that it is wide enough. Spread the dips on a plate placed just in front of that huge mouth so it looks like it is being puked by the pumpkin (charming).
You can play with the way you carve the eyes to make it look more real and dramatic!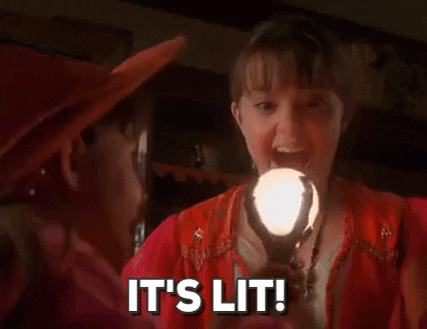 ---
Got something to say?
Get in touch with us!